If you've been following my posts you know that a month ago when I went to the
Nordstrom Trend Show
I picked up a
Clarisonic Mia 2
. I decided to wait until I had used it for a full month before reviewing because my initial response to the product was completely negative. And now that I have given it this long I would say I have some mixed feelings.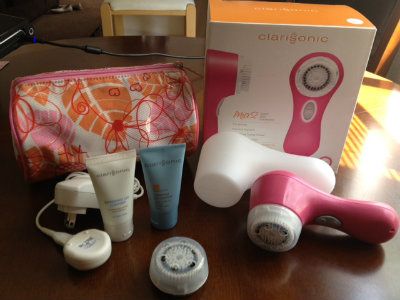 First let me tell you what it comes with. The Mia 2 is used only for the face and has 2 settings of either Low or Normal. It comes with a 2 year warranty and also I purchased it at Nordstrom so that's insurance in itself. In the box you get the Mia2, one brush for normal skin, a cover over the brush, and a case that fits snug around the Mia 2, the charger and one face wash. Because I purchased mine through a promotion I also received a carrying case (above), an extra exfoliating face wash and an extra brush head for normal skin, all free! Ok, now for the review...
Initial Reaction
- After two days of using the Mia 2 my skin broke out horribly bad! Literally the worst breakout of my life. The issue I typically have with my skin is the occasional break out in one area that would maybe result in the appearance of 2 or 3 blemishes, typically around my cheeks and mouth. Within using this product twice I broke out all over my face, mainly on my forehead. Because I had heard so many great things about the Clarisonic I googled this side effect to see if I was the only one having this issue, and it turns out I was not. I found that it is common that within the first 2 weeks of use your skin goes through a "purging phase" in which the Clarisonic is actually pulling all of the impurities out of your skin, and that is why I broke out so badly. I also found that someone with sensitive skin is more prone to such breakouts because of how deep the clean is. So as a first time user and a person with sensitive skin, it was very likely that my skin was going to react negatively, and it did.
Continued Use
- After the first two weeks and many breakouts I found that my skin was getting brighter and it was removing my dead dry skin, which is why I had purchased the product in the first place. I have dry skin and when I break out the blemishes scab over and this makes my foundation look horrible. The Clarisonic really clears that away and brings out a brightness and glow. Though I am still breaking out occasionally I honestly think this is more so attributed to my menstrual cycle more than my face routine. It also makes my skin so smooth and clear that my toner and moisturizer really sink into my skin after it has been cleaned.
Overall Review
- I would say if you have the money and you want a deep clean, buy the product because it really does completely eliminate all dirt and grime from your skin, leaving it a smooth canvas for makeup. However, for the price and what I went through with my first usage, I would say it is not worth it if you're unsure or don't really need it. You can buy similar products from O
lay
and
Neutragena
and also
Sephora
sells a hand brush that doesn't spin or vibrate for under $5. I would give that a shot first to see how your skin reacts to the abrasion before you spend almost $200 on a product that does OKAY. But this is just my opinion. If any of you have questions or comments about this or if you have used the product before and have some input, PLEASE let me know! I would love to hear more stories.