So a couple of weeks ago my Mom decided to be the best Mom in the word and said she would buy me a Clarisonic :). We made our way to Nordstrom in Cerritos, CA and the woman at the Dior counter told us about the Trend Show they had coming up. That we could reserve our spot for $15, Clarisonic was going to be there, and I would also get some free gifts if I waited to pick up my Clarisonic on that day. So we did and I'm so excited that I waited because the trend show was an AWESOME experience! I had no idea that it was going to be such an elaborate production. There was a coffee and muffin breakfast with fun giveaways and then we made our way up to the second floor where there was a full on runway set up! We got to take a sneak peak at some of the hottest trends and products for the Spring and Summer and entered a drawing to win free prizes. Unfortunately, my mom and I didn't win anything, but there were plenty of opportunities to snag some samples of things. There were so many experienced and professionals speaking on behalf of their brands, it was awesome to be in the presence of such talent.
Below: Main stage of the show
Below: First model on the Runway!
Below: Us waiting in line for coffee and an introduction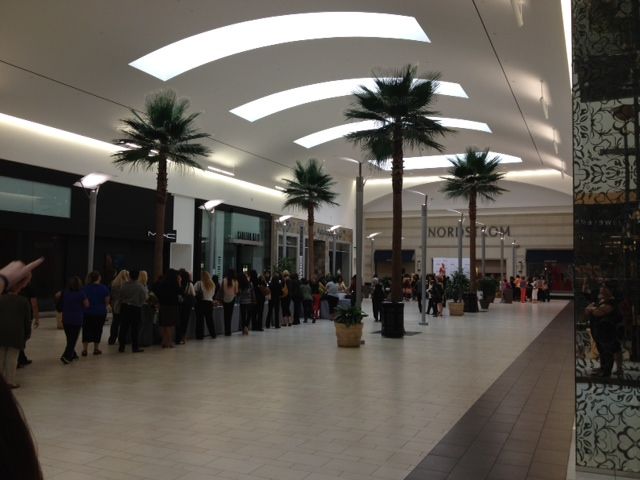 The biggest surprise for me was seeing what Smashbox had in store. They brought with them world renound photographer, Steven Khan to the store and if you made a $100 Smashbox purchase you were able to reserve a photo session with him after you got your makeup done by the Smashbox team, very awesome!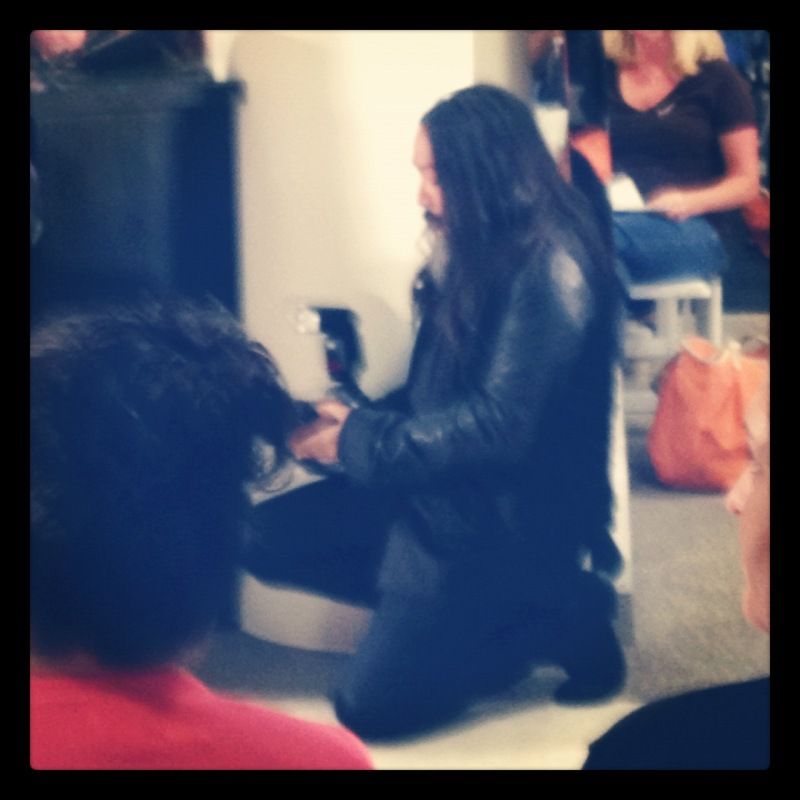 Above: Steven Khan shooting the models coming down the runway
After the runway event everyone headed downstairs to check out the vendors and make some purchases. And honestly by this point I was super overwhelmed! There were so many great options, but I had already purchased my Clarisonic and was not looking to make any other drastic purchases, so I stayed where I was comfortable and headed to the MAC counter, and I'm so glad I did because I was approached by MAC Senior Artist and presenter for the show, Cynthia Rivas. She complimented me on my look and asked me if I was an artist (a major compliment coming from her) and we chit chatted for a bit about Makeup. So awesome meeting her! I wish I would have gotten a picture, she is extremely tall and beautiful on top of her being talented.
After this experience I walked around the store a few times, picked up some free goodies and pretty much made my way out. Overall it was an awesome experience filled with fun and beauty and I'm glad I went. So here are some pictures of what I picked up...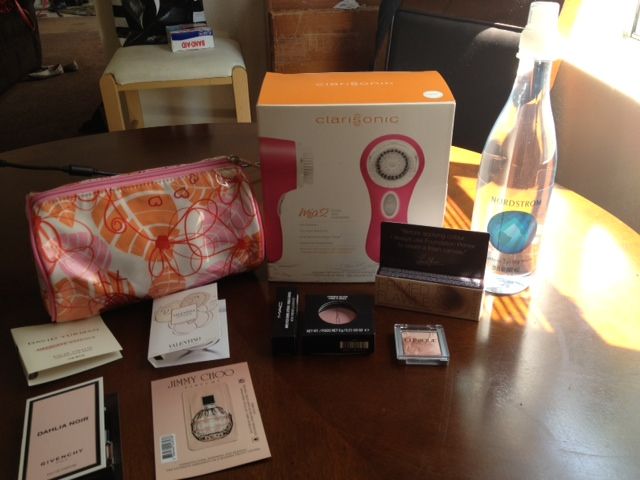 Left to right: Perfume samples of David Yurman- Delicate Essence, Valentino- Valentina (my FAVORITE!), Givenchy- Dahlia Noir, and Jimmy Choo. Then my Clarisonic Mia 2 with my free carrier bag as well as an extra brush head for Normal skin types. I also picked up Girl About Town from the MAC Sets collection, and Well Dressed blush. Then I have my free 30 day supply of the Laura Mercier foundation primer that I already have and love, so I'm glad I have a travel size now. Then my free Peony blush by Clinique. And my Nordstrom water bottle! I thought it was cute :)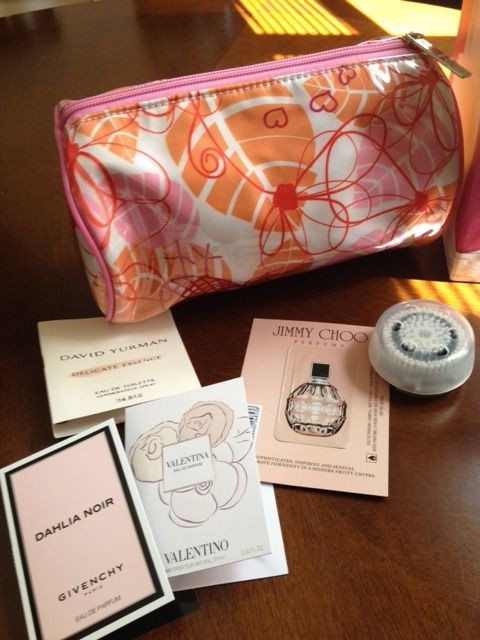 Perfume samples and my Clarisonic travel bag, I love it! The inside lining is waterproof, perfect for the brush or even to carry makeup.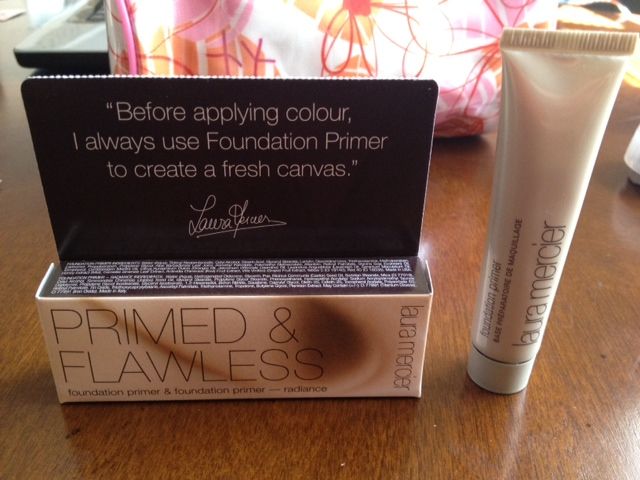 Super Sample of the Primer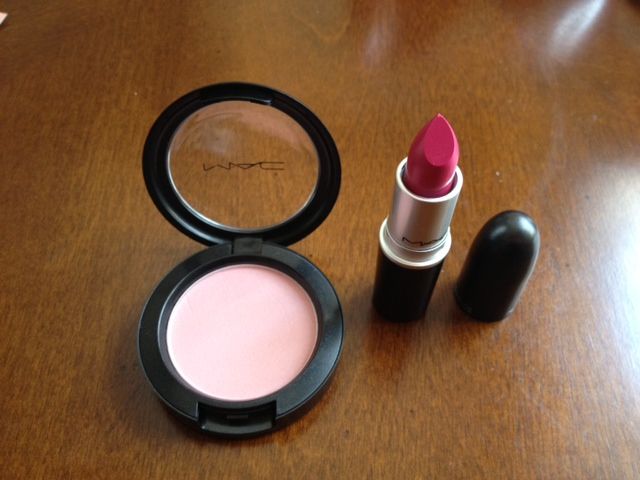 MAC Well Dressed and Girl About Town Lipstick
P.S. I'm going to be writing about my experience with the Clarisonic so stay tuned for that... Hope you all have a wonderful Mother's Day weekend.